What is a pressure washer?
Pressure washer for gardening effectively makes use of the combined effects of water and a mechanical force to clean your garden. Pressure washing is also known as power washing where a high-pressure spray of water is used to remove loose mold, dust, dirt, grime, mud, mildew and even chewing gum from different surfaces. This is a technique of cleaning that can also be applied to the task of cleaning buildings, vehicles and concrete surfaces.
There are different kinds of pressure washers, and each of these designs has their uses. You can adjust the pressure with a slight control of the unloading valve that comes with the appliance.
Lighter models of pressure washers are, applicable for usage at home whereas for industrial purposes larger and more powerful machines are required.
Let us take a look at some of the best models of pressure washers.
Sun Joe SPX3000 Pressure Joe 2030 PSI 1.76 GPM 14.5-Amp Electric Pressure Washer
The Sun Joe SPX3000 Pressure Joe 2030 PSI 1.76 GPM 14.5-Amp Electric Pressure Washer has a design with, which it can be effectively used in different settings and for cleaning different types of stains. This machine can be used for cleaning different types of surfaces such as cars, buildings, boat trucks, patios, driveways, RV's, lawn equipment and others. The model has a motor with a power of 1800 watt/14.5 amps, and it can generate a water pressure of 2030 PSI and a water flow of 1.76b GPM. This is a great feature with which the cleaner can handle stubborn stains and dirt such as tar and freeze. It can also remove stains of mildew and that of oil. It can also be used against rust marks on steel, dried mud, and other difficult grime. The machine also has a dual detergent tank, in which it can carry two different types of detergent.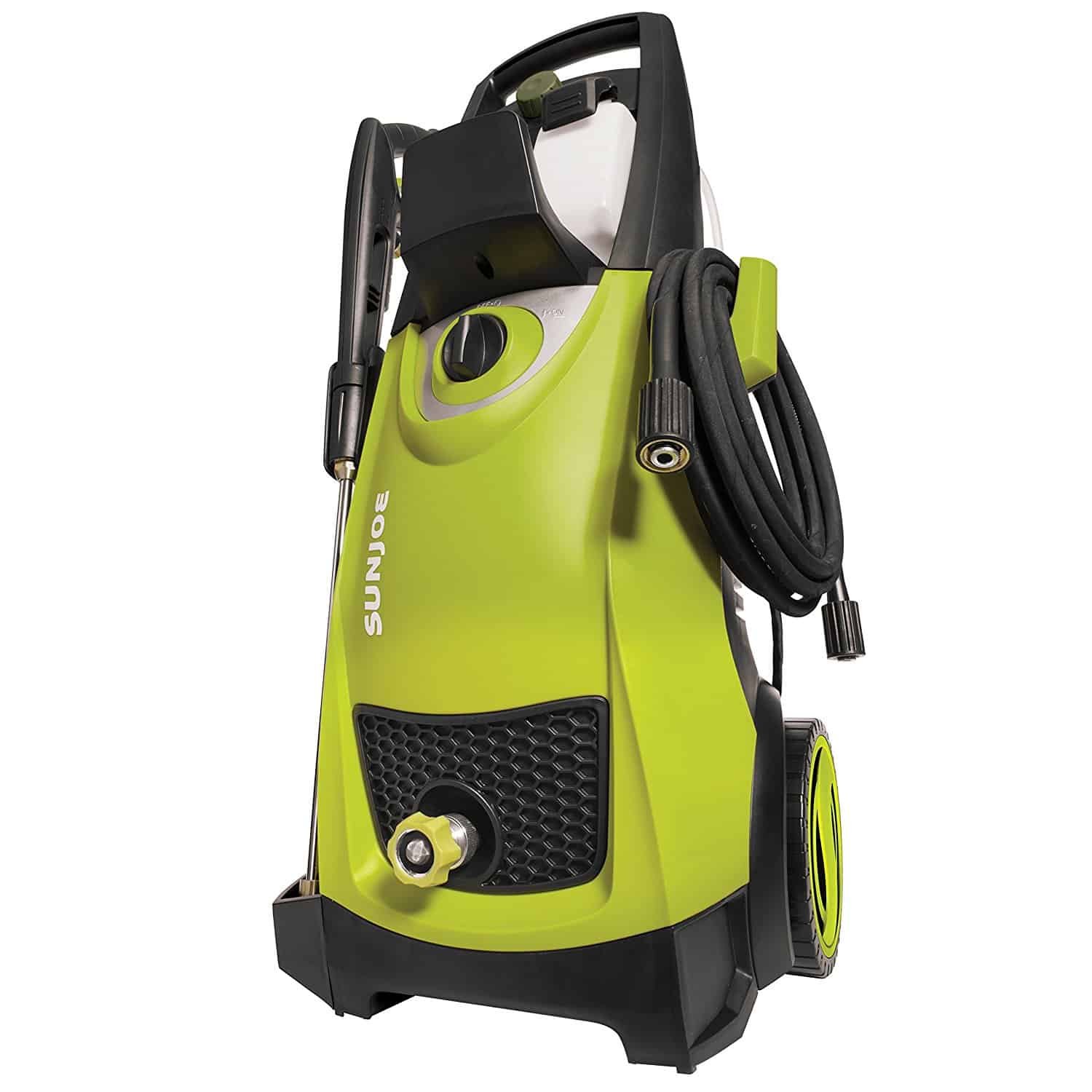 Pros
Pros
The 9-liter tanks are also removable due to which they can be refilled again easily with fresh supplies.
You can choose any detergent at the time of washing or can even mix them at the time o cleaning.
It has a 34 inches extension wand and also real wheels with which the appliance can be moved about easily.
It has a 43 inches power cord along with five quick spray nozzles. You can select nozzles as per the requirement in hand.
It also has a garden hose adapter. The cleaner has a plastic body that makes it super light. Hence you can move about the cleaner easily from one place to another.
The model comes with a warranty period of two years that adds to the convenience of the user.
Cons
Cons
The plastic body is prone to easy chip and dent.
WORX WG629 Cordless Hydroshot Portable Power Cleaner, 20V Li-ion (2.0Ah), 320psi, 20V Power Share Platform
The WORX WG629 Cordless Hydroshot Portable Power Cleaner, 20V Li-ion (2.0Ah), 320psi, 20V Power Share Platform has a design that truly makes the device one of its kind. This device is truly portable and is also a self-pressurized water device. The design of the model is cute and compact, and hence it is super simple to operate and to move about from one place to another. This device can be easily attached to a typical garden hose. It can also draw water from other sources of water such as buckets, pool or even lakes. The model has a dual operation mode. Hence you can use the device for cleaning and also for watering purposes.
Pros
Pros
This cordless model is also super lightweight and is highly compact in its designs.
It comes with five spray angles that add to the convenience of the user.
It can create the highest level of water pressure of 320 PSI.
The battery of the model is compatible with the entire array of the Worx 20V DIY. This compact tool is super for quick cleaning.
The design of the model is super stylish and is quite attractive to look at.
It comes with a plastic making that adds to the light weight of the model.
Cons
Cons
Plastic body compromises with strength.
Karcher K1700 Electric Power Pressure Washer 1700 PSI TruPressure, 3-Year Warranty, Turbo Nozzle Included
This is a machine that has been made with all the requirements of the modern user in mind. This model has a super convenient feature of an on and off foot switch. The turbo nozzle that has been provided contributes to best cleaning. This makes the machine just perfect for stubborn cleaning. There is a large removable bin that offers storage for personal things and also accessories. The machine has a heavy duty frame and also all metal hose connections. This provides great durability to the machine.  There is also a removable detergent tank that can be easily refilled and used again and again. The pressure washer can be used for both domestic and also industrial cleaning. The brands of Kracher come with the largest number of designs and models of pressure cleaners when compared with its other peers. The aspect of quality receives the greatest of importance. Some of the best principles of engineering and ergonomics have been applied in the track of making new models of cleaners.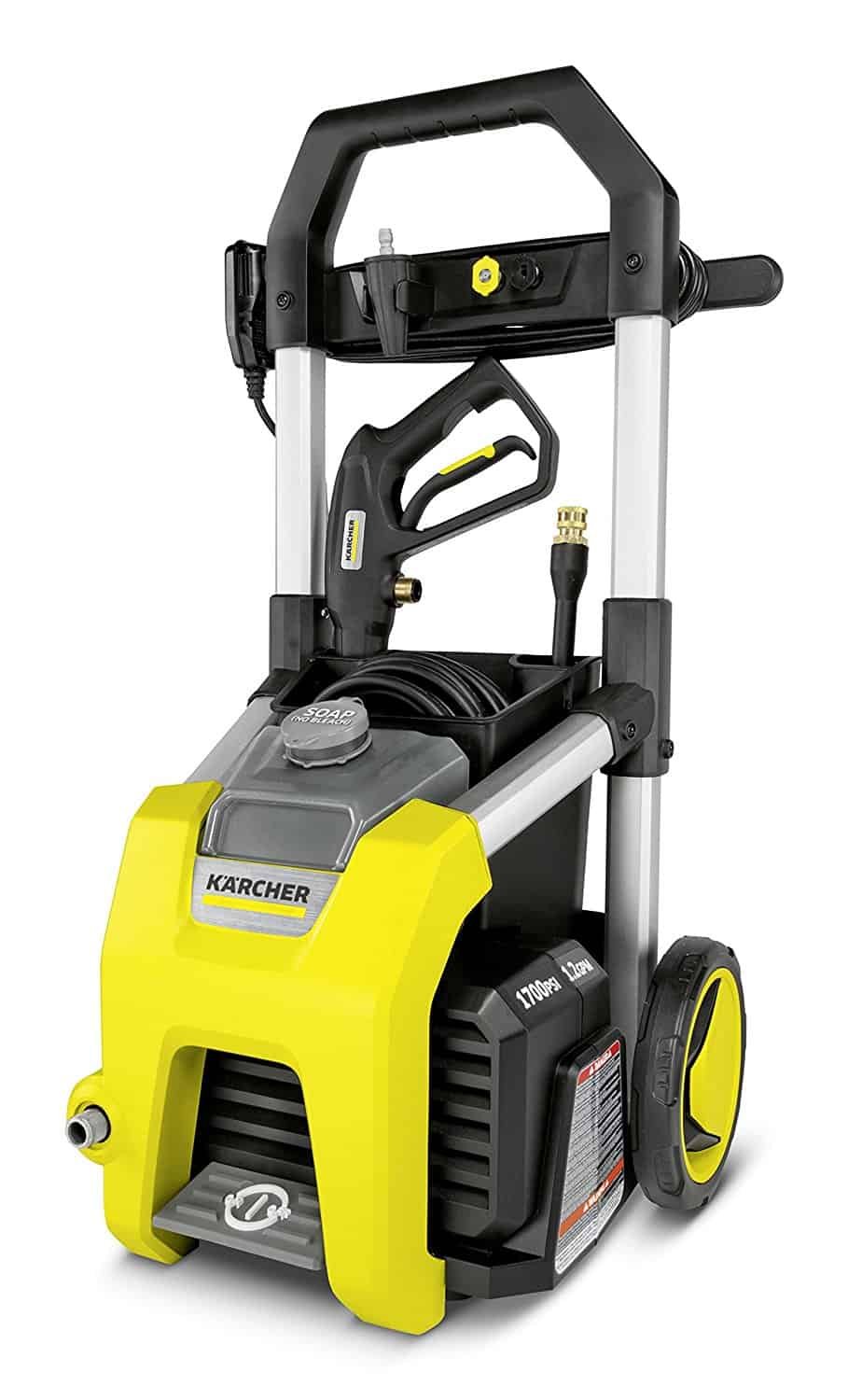 Pros
Pros
The designing of the models of Karcher cleaners have been done in such manner that the least noise is produced.
This makes the ambiance good even when the machine is in use. You can also a use\the machine at any point in time without the fear of disturbing anyone.
The machines are also highly effective regarding energy consumption. This ensures that the electricity bills are moderate and that you can make use of the n machine in the longer duration.
Cons
Cons
Owing to metal body, it might feel come across as very heavy to some users
AR Blue Clean AR383 1,900 PSI Electric Pressure Washer, Nozzles, Spray Gun, Wand, Detergent Bottle & Hose
The brand AR or ANOVAS REVERBERATE is one of the most trusted names when it comes to manufacturing pressure cleaners. The various models that have been patented by this brand can be used for effective cleaning of the home and also of various industrial contexts. This particular model comes with a large number of features and benefits. It has a triplex plunger pump along with axial wobble plate. It also has a quick connecting garden hose adapter. There are other aspects such as the water filter adapter, special fan jet settings, adjustable spray heads and a foam dispenser. The whole machine is set up on a trolley with wheels. This makes the device highly portable, and you can carry the device anywhere you require. There is also an integrated hose reel that helps you to store the device conveniently even in small and cramped places.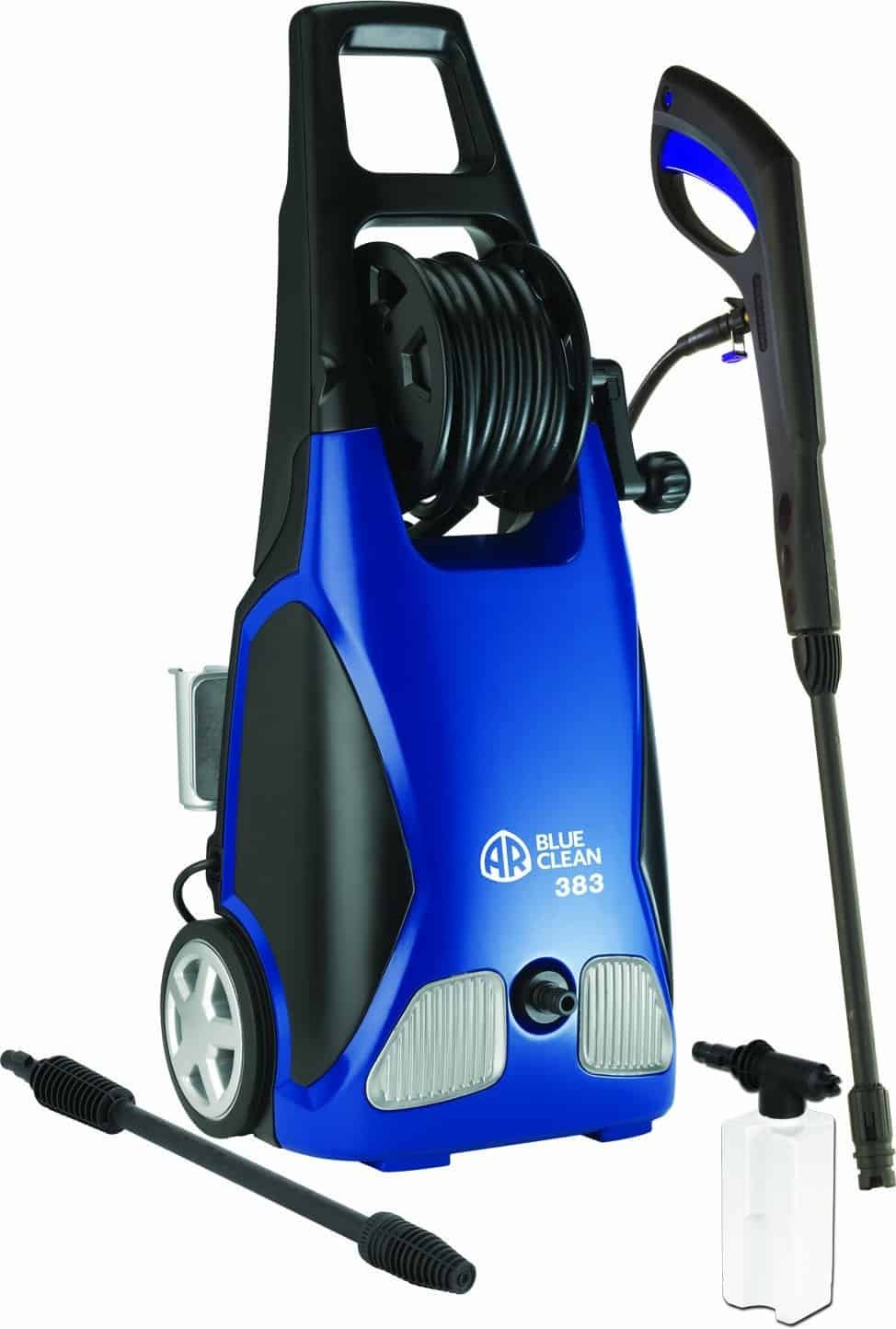 Pros
Pros
The design of the model is such so that it can be operated with the least amount of noise. Hence you can use it without the fear of disturbing people in the proximity.
The machine can be used without the fear of very high electricity consumption.
The total stop system switches the washer off whenever the trigger of the spray gun is not pressed. This ensures that the machine does not get overheated
The model is also provided with turbo nozzle adapter
Cons
Cons
The use of this machine could leave a residue of soap on your hands that could be harmful to your health. So be sure to wash your hands after using the machine.
AR Blue Clean AR390SS 2000 psi Electric Pressure Washer with Spray Gun, Wand, 30' Hose & 35' Power Cord, Blue
The AR Blue Clean AR390SS 2000 psi Electric Pressure Washer with Spray Gun, Wand, 30′ Hose & 35′ Power Cord, Blue is a model that has been packed with a large number of features. The various features of the model enable the machine to be used for different purposes. As a result, you can use the machine to clean various types of surfaces both at home and also at industrial places. The model comes with different effective features such as 30 inches wand and also a 35 inches power cord. This enables the user to clean different surfaces and also different types of corners and nooks. This product is perfect for those who are looking to buy a pressure washer that will be effective but will also come at a reasonable price tag. It is extremely durable and powerful at the same time. 2000 PSI of water pressure makes it ideal to be used for residential areas. Its Quick Connect nozzles are excellent to suit varying uses of this pressure washer.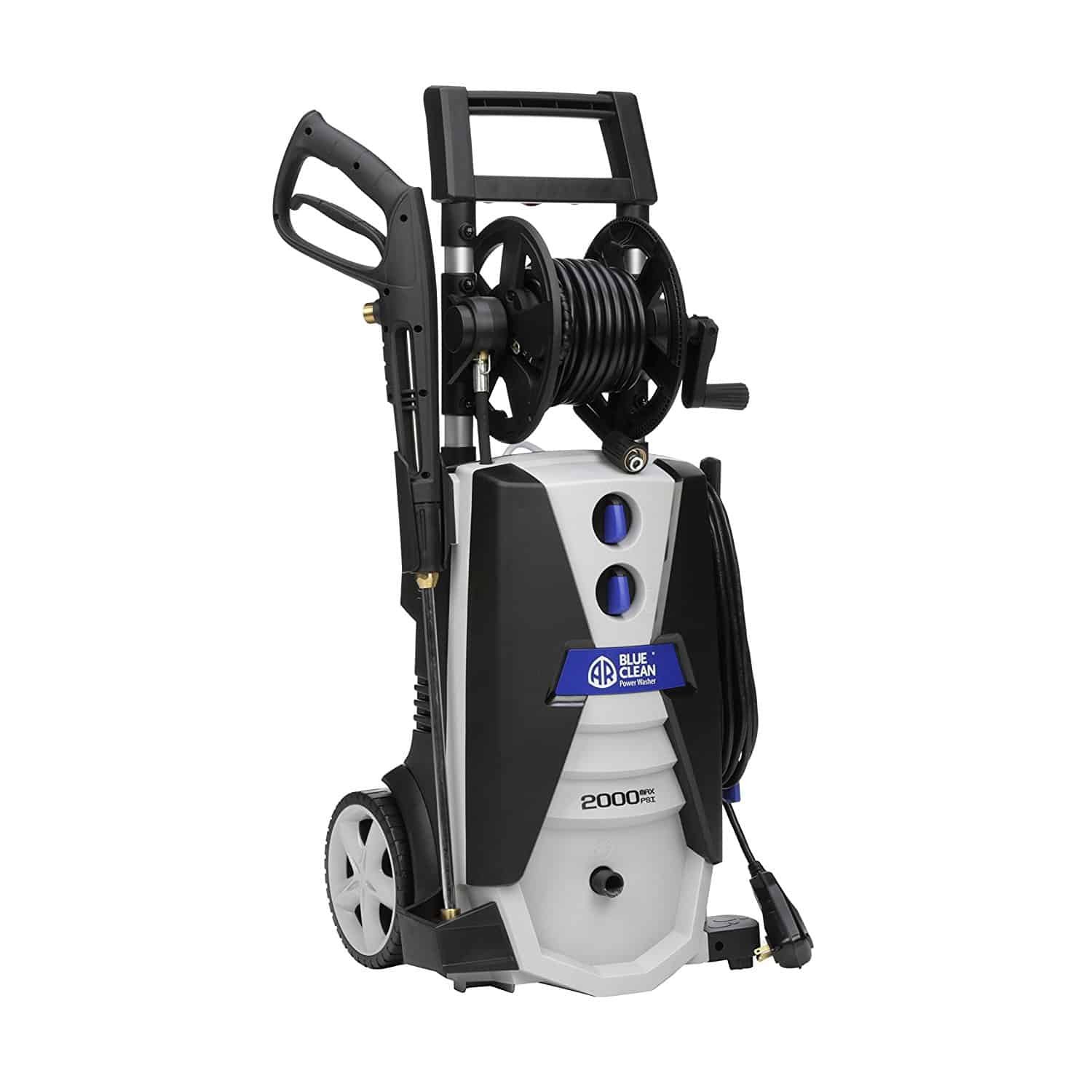 Pros
Pros
The body of the machine is designed in a super compact way so that the machine can be moved to any place of requirement.
Highly effective regarding water and electricity consumption.
The Total Stop feature halts the whole system when it is not being used. This enhances the longevity of the system
Large detergent tank for continued use without breaks
This is an environmentally friendly model – it uses optimum quantity of water as well as electricity
Cons
Cons
The hose of this product is very stiff. If it had been more flexible, it would be easier for the user to reel off the hose without using a lot of effort.
Although you can follow the instruction manual easily to set up this product, it will take a good amount of time to get it done.
Advantages of using pressure washers
Pressure washers are a wonderful invention. With these appliances, you can easily maintain your house and garden, with minimum effort from your end. There are several advantages of using pressure washers:
These are effective in keeping your residential premises clean and hygienic

The moss and dirt build up that happens on the exteriors of your house and garden can be washed off easily using pressure washers. As a result, you can add value to your assets

These are very effective for use while gardening and can be up to hundred times stronger than the conventional hose pipes that we mostly tend to use

These are environmentally safe appliances, which have been built to make effective and optimal use of water and electricity. So you don't need to fear about water wastage or huge electricity bills.

Keeps your house free from allergy causing elements by washing away grime, dust, moss, mildew, pollen and other harmful stuff

Cost effective method
Disadvantages of using pressure washers
However, there may be few flip sides of using pressure washers. Let us take a look:
Using uncontrolled pressure of water on fragile surfaces might cause extensive damage

You must be able to withstand the pressure that is created so as not to harm yourself or somebody nearby
Conclusion
Washing the exteriors of your house is a tedious job. And if you have a big house with a garden, the task becomes extremely cumbersome too. However, with slight caution and by reading the user manual well, you can derive maximum benefits from a pressure washer. Pressure washers are excellent when it comes to maintaining your property; it makes the whole task of cleaning and washing very simple. These can also help you save money in the long run and keep your residence clean and hygienic.