Cleaning the floor is a dire necessity for one and all to keep our house comfortable, clean and hygienic. However, cleaning the hard floor can be a tough job and is often not as easy as it sounds. In fact, it can be pretty tiring too, where squatting and doing the job can be extremely strenuous. Additionally, if there is a litter on the floor, then cleaning the floor can become all the more challenging. And there is always the risk of developing health problems if this continues for a long time. This is where the vacuum cleaner comes handy. A vacuum cleaner is considered to be one of the essential home appliances of the current times. This is a machine that brings with a lot of respites to modern-day homemakers as it makes the task of cleaning a lot easier. With the help of vacuum cleaners, you can easily do a thorough cleaning of your house without leaving out any corner. Essentially we are talking about the cleaning of the hard floor; this is a task that becomes all the more difficult if you need to cover a large area. When you employ a vacuum cleaner, it works on the technology of suction power and helps to suck in all the granules and fine dust like debris from the floor. Overall, this is process is much faster, convenient and the result is also more hygienic. There are a large variety of models of vacuum cleaners which are specialized to sanitize hard flooring in your house. Each of these models comes with their features and their benefits. Deciding on which one to buy, can be a tough job. Now let us take a look at some of the best models of hard floor cleaners that are currently available in the market.
McCulloch MC1275 Heavy-Duty Steam Cleaner
The MC1275 is an excellent choice if you want to make use of some serious steam cleaning process for getting rid of the most stubborn grime. This machine makes use 48 Oz of water that is heated to a temperature of 200 Fahrenheit. The steam that is then produced can be used for cleaning various types of surfaces. Get rid of different types of allergens, microorganisms effectively and easily using this hard floor cleaner. The overall dimensions of this appliance are not very huge, so you can store it in smaller cabinets and cupboards or even under the kitchen counter. Apart from regular cleaning of the walls and the floor, this appliance can also be used to clean the BBQ grill. You must know how seriously difficult it is to get the BBQ grill clean and swanky, but using this machine, this can be easily done! There are a large number of attachments that come with this, for expert cleaning of different surfaces. It requires a power input of 1500 watts on a continuous supply to make high-pressure steam and does not require any specialized chemicals for spotless cleaning. Weighing only 10 lbs makes it rather lightweight which adds to your convenience. The light indicators on top glow ON and OFF signaling whether the desired temperature has been achieved. On an average, 8 minutes are all that this machine needs to get heated up. The cleaner has wheels that provide easy mobility even outside your house. This makes the product ideal for using at home and even places such as workshops and garages.
Pros
Pros
Suitable for sanitizing any surface using steam
User-friendly dimensions
Has a stem lock feature
Wheels for outdoor use
Cons
Cons
Brushes are small – ineffective for heavy-duty cleaning tasks
Constant temperature maintenance could be better
Hoover Hardwood Floor Cleaner FloorMate SpinScrub with Bonus Hard Floor Wipes Corded Bare Floor Cleaner FH40010B
The Hoover Hardwood Floor Cleaner is the perfect machine if you want to vacuum, dry and even wash your floor at a single go. This is an appliance that operates on the latest technology of spin and scrub. This ultimate, 3 in 1 hardwood floor cleaner is a modern tool that has a fast yet super effective operating system. This steam mop brings for you a breakthrough technology that will make the task of cleaning hard floors a matter of cake walk. The brushes of the appliance have a counter rotating motion that scrubs and cleans the hard floor from all possible angles. This leaves the floor truly clean and gleaming from all possible angles. This is a process that not just duly cleans the floor, but also dries the floor through a super suction technology. You can use this appliance for the best results on vinyl, sealed wood, and grout floors. The model has dual tank technology that helps to keep the clean and the dirty water separate. This will mean that you need not worry about the dirty water being used to regenerate steam. The 13 inch wide cleaning path and the bottle's design have been provided to it to achieve better performance. The fingertip controls will add to your convenience as you can maneuver the appliance in any manner you wish to. The rubber wheels on the machine help the appliance to glide freely without causing any damage to your floors. The motor of the appliance is super powerful, however you need not worry about this contributing to the hiking up your monthly electricity bill. So buying this model of hard floor cleaner is surely a wise investment for the long term. The manufacturer offers a warranty period of one year on this product.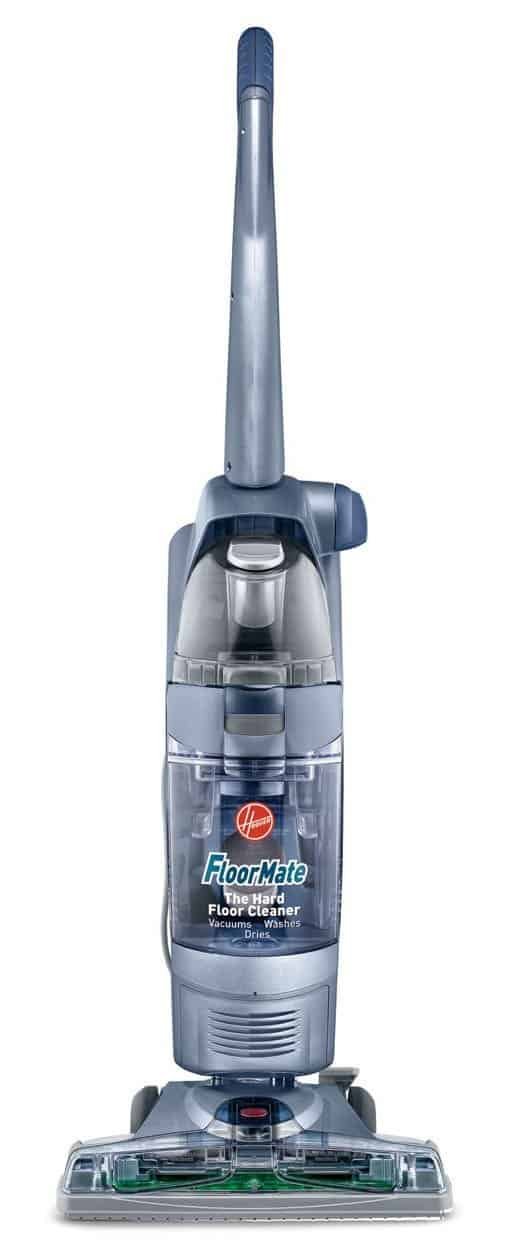 Pros
Pros
Dry and wash at the same time
Fingertip controls
Rubber wheels are gentle on floors
Cons
Cons
Dryer not very effective
Stronger brushes could have been provided
Advantages of using a hard floor cleaner
A survey of the prevailing market trends and user requirements reveals that buyers look for something extra when they come to check out different vacuum cleaners. It is not exactly vacuum cleaners that they are looking for, but something more versatile. Let us take a look at the benefits that hard floor cleaners can offer:
You can use a hard floor cleaner not only to clean up the floors. In fact, it can be used on any hard surface even the walls.

These usually come with long cords to offer you limitless movement around your house.

You can achieve versatility as well as ease of use with hard floor cleaners

More effective than dirt mops. The result is more hygienic

Compact and easy to store in small spaces

Can be easily used to double up like a vacuum cleaner and a floor cleaner as when necessary

Comes with different accessories to take care of all round cleaning
Few of the flip points to keep in mind are:
It is difficult to replace the components of hard floor cleaners, which lift and scrub the floors

The cordless units must frequently be charged, causing you to break often in between cleaning sprees
Conclusion
When buying an appliance like a vacuum cleaner or a hard floor cleaner, people look for different features that can increase the usability and the affectivity of the appliance. Seldom do we attach equal importance to the aspect of maintenance of the product. However, this is a very important point if you want to derive the best performance out of your hard floor cleaner on a long-term basis. The warranty offered by the manufacturer comes in useful in such context; so make sure you check this warranty while buying any model. This will not only help you to draw the best service from your purchase but also the best returns on the investment that you have made. Also, there are hundreds of models of hard floor cleaners available in the market. Such abundance can easily confuse any buyer, even if you have got the previous experience of buying vacuum cleaners. So to pick and choose the right product, you must have a clear picture of your basic requirements. Once you have got that sorted, finalizing on the most suitable hard floor cleaner will be very easy for you. Make sure that you check out different review websites and product ratings from the Internet. Read up the comparison of different hard floor cleaners available on websites, before you do the buying. Talk to your friends and family members who have used similar appliances. This is genuinely better than banking on the sales team of a particular brand. Also, don't forget to compare the prices of the different products. Try to buy during offers, so that you can fetch the best deals on the best products.